"

Skyfire

" is set in 2012. India is hit by a series of freak weather incidents and startling epidemics that are bad news for the country. At the same time, children are disappearing from slums in the country's capital and no one actually seems to care.
To the rescue – journalist Chandrasekhar and historian Meenakshi Pirzada (from Aroon's earlier books) make an entry! This is also an operation which is hand in hand with intelligence over Syed Ali Hassan and what they uncover has its roots in the high offices of Delhi, ultimately leading them to Bhutan.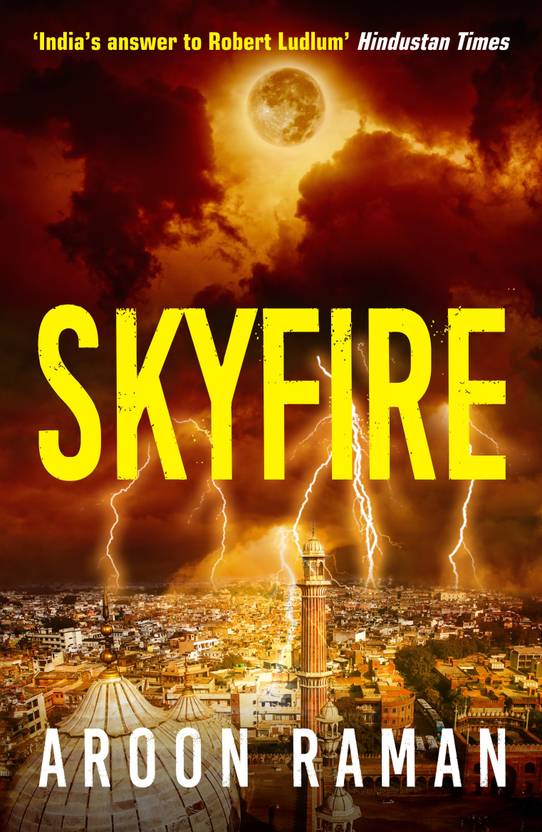 After the last few chick-flick rom-com books I had read, this was a 360 degree change in every way - the style of writing, the fine details, the plot everything. I have not read 'The Shadow Throne' (reference for which is there quite a few times in this book also, and I must check it out soon), it did not feel as if I am missing out on a lot of previous facts.
The book is present time based, almost, set in 2012 (Ironically the time when the end of the world was prophesied), with references of eCommerce sites and other relatable things. Children going missing, major disaster and the turn of events will definitely send chills down your spine. It is almost movie like, except for the fact that a book has a lot more fine-tuning and detailing. I did find it a little slow and dragging in the beginning, but the pace soon picks up and then you don't want to put it down till you have reached the end.
I did get a bit lost when too many scientific terms were used, but the on and off romance between Chandra & Meenu (Spoiler Alert: Yamini is back) balances that out. I had a slight inclination of who was the bad guy here since almost halfway through, so it did not come as much of a surprise, it had become obvious, Aroon, he was too good to be true (No, I won't give this one away too).
If you're into scientific thrillers, you definitely must read it, I am sure my dad (who I will pass on the copy to) will love it. And I can so visualise a Akshay Kumar's Baby or Holiday kinda movie made out of this!
The book is available to buy on Flipkart and other leading stores.
Save
Save